Horse Canyon Cabochon
Horse Canyon Moss Agate Cabochon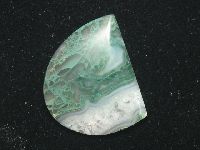 This is a cabochon cut from Horse Canyon Agate. This one has already sold. We don't have more available form this material right now, but we do have rough material if you are interested in a custom-cut stone. Just contact us if so.


U.S. shipping cost: $8.00
Horse Canyon Cabochon Item# 2330 Price: $old
Sold - - Contact us for additional items.