Fossil Wood Slab
Polished Fossilized Wood Complete Round Slab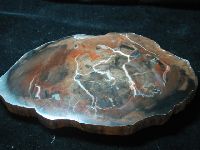 This is a polished slice of Petrified Wood. Though this one has sold, we still have another one or two pieces of similar type (not necessarily polished). We are not ourselves expert on Wood, but we were told by someone that is, that this piece 'looks like Upper Triasic, Chin Lee, possibly a member of the Painted Desert.' He also said that it 'passes for Arau Cario Xylon Arizonicum,' but it's not. He continued, that it may be from Paria River Area, southern Utah. If you would like to see photos of the other pieces we have, contact us and we will add it to our list of priorities.
U.S. shipping cost: $6.80
Fossil Wood Slab Item: 2285 Price: $old
Sold - - Contact us for additional items.