Brazilian Agate Slab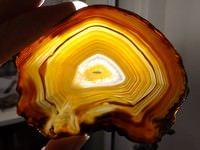 This is a Brazilian Agate slab (seen with light from behind it). It has already sold, but we have a good varity of more, just not photographed yet. If you are interested in seeing other pieces, just send us a message asking for more unpolished Brazilian Agate slabs and we'll work to get more up soon.


U.S. shipping cost: $7.50
Brazilian Agate Slab Item# 4430 Price: $old
Sold - - Contact us for additional items.