Turritella Agate
Looking for Turritella Fossil Slabs or Rough?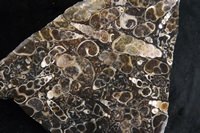 This piece has sold, but we do have a few more slabs as well as some more rough pieces. Contact us and we will put attention to getting more up soon. While this material is named Turritella Agate, after fossil snails, it apparently actually belongs to another species than Turritella. However, it is commonly known as Turritella agate, and we believe it was collected in Wyoming. Rough available at $5/lb, while individual slabs or pieces sell for $3-$10 on average depending on size and quality of the piece.
U.S. shipping cost: $6.80
Turritella Agate Item# 2086 Price: $old
Sold - - Contact us for additional items.