Poppy Jasper Slab
Morgan Hill Poppy Jasper - We Have More!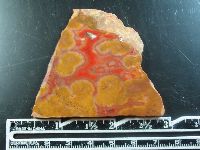 This is a small slab of Morgan Hill Poppy Jasper. While it has already sold, we have more, just not photographed yet. If this is what you are looking for, contact us through the link below, and we will get more up soon.
U.S. shipping cost: $6.80
Poppy Jasper Slab Item# 237 Price: $old
Sold - - Contact us for additional items.