Rain Forest Cabochon
Large Rain Forest Jasper Cabochon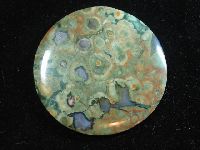 This is a cabochon cut from Rain Forest Jasper. It is 64 mm diameter x 5 mm, and weighs 168 carats. The pictures on the black background are a little washed out from what it looks like naturally, but the last photo in the slide show shows it truer to actual.
U.S. shipping cost: $5.00
Rain Forest Cabochon Item# 3030 Price: $old
Sold - - Contact us for additional items.