Psilomelane Slab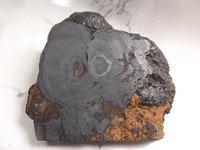 This is another slice of Psilomelane. Very subtle line patterns. On one side you can make out the faint ribbon running along the edge, while on the other it has 'eye' shapes in the middle. It measures roughly 2 1/4" x 2 1/4" on the narrowest flat surface side with the eyes, and about 3" x just under 3" on the widest surface side (the ribbon). It is around 8 mm thick and weighs 128.2 grams, or 4.5 ounces. It was dry in all photos. Ask for First Class shipping if preferred.
U.S. shipping cost: $8.00
Psilomelane Slab Item# 4179 Price: $8.00
Sold - - Contact us for additional items.