Spider Web Slab
Spider Web Jasper Slab - We Have a Few More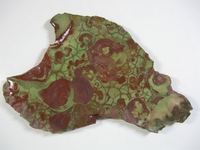 This is a slab of Spider Web Jasper. While this one has sold, we do have a few more slices available, just need to photograph them. Send us a message telling us Spider Web Jasper, and we will get them up soon. This material often has webbing and 'vine' like patterns, similar to what you see here, and we've even found a little common opal in some of it as well.
U.S. shipping cost: $6.80
Spider Web Slab Item# 1859 Price: $old
Sold - - Contact us for additional items.