TeePee Canyon Agate Slab
Teepee Canyon Agate Slab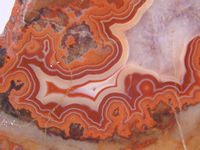 This nicely-patterned Teepee Canyon Agate Slab has sold, but it is possible we may have others we have not photographed yet. Please email us and we will put attention to getting more up soon.




U.S. shipping cost: $6.80
TeePee Canyon Agate Slab Item# 3926 Price: $old
Sold - - Contact us for additional items.