Palm Root Cabochon
Fossil Palm Root Teardrop Cabochon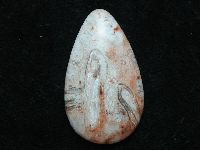 This is a teardrop-shaped cabochon cut from Petrified Palm Root, a fossil. We have no stones cut from this material right now. However, if you are interested in a custom-cut stone, we do have material available to create one. Contact us for a quote.
U.S. shipping cost: $6.80
Palm Root Cabochon Item# 7-Palm-0001 Price: $old
Sold - - Contact us for additional items.