Azurite-Malachite Cabochon
Azurite / Malachite Cabochons - More Available!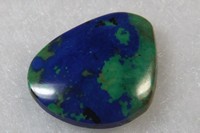 This is a small, free-form Azurite cabochon with a little Malachite. It is one of a number of stones we acquired through an Estate collection and not cut by Ed. While it is sold, we have a few more. If interested, Email us and we will get more up soon.
U.S. shipping cost: $8.00
Azurite-Malachite Cabochon Item# 3373 Price: $old
Sold - - Contact us for additional items.