Spider Web Jasper Slab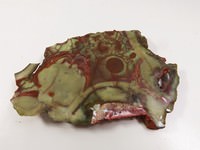 This neat piece of Spider Web Jasper has already sold. It has webbing and 'vine' like patterns common to this neat material, plus a little common opal visible (the white/pink area on one side). It was the last piece we had in stock, but we recently found a few new gorgeous pieces. If you are interested in seeing them before we get more up here, send us a message and ask for Spider Web Jasper slabs and we'll get more up soon and let you know.
U.S. shipping cost: $8.95
Spider Web Jasper Slab Item# 4625 Price: $old
Sold - - Contact us for additional items.