Morado Opal Slab
Purple Violet Flame Morado Opal - More Slabs Soon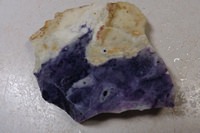 This is a slice of purple Morado Opal from Mexico. We have been sold out, but recently acquired another couple of small pieces. So we do have a little to be sliced for slabs. If this is what you are looking for, send us a message and we will put attention to getting them sliced and available soon.
U.S. shipping cost: $8.00
Morado Opal Slab Item# 3431 Price: $old
Sold - - Contact us for additional items.