Condor Agate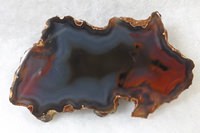 This is a pretty little Condor Agate, polished on the face. It shows a some chromatography (as I understand, simply - color change in the agate that does not follow the banding). In natural lighting it is not as bright as it looks in the photos, but just focus the light on it and it is just beautiful, with the blue and bright red contrast! It is roughly 2 1/2" x 1 1/4" at its wider points on the face, and about 15 mm thick. It weighs 1.3 ounces, or 36.7 grams. (Please note there is a slight flaw in the polish visible in the top left blue area, seen as a small line.) A very neat piece to add to a collection!
U.S. shipping cost: $8.00
Condor Agate Item# 3411 Price: $old
On sale eBay - - Contact us for additional items.