Mexican Crazy Lace Cabochon
Mexican Crazy Lace Agate Cabochon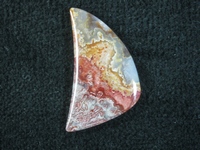 This is a small Mexican Crazy Lace Agate cabochon, cut by S.A. Wittick. Beautiful material. While we have no Mexican Lace cabochons ready to be photographed right now, we do have rough material. Contact us if you would be interested in a custom-cut stone.


U.S. shipping cost: $8.00
Mexican Crazy Lace Cabochon Item# 1637 Price: $old
Sold - - Contact us for additional items.