Sagenite Slab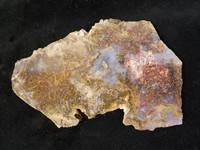 This is an agate slab with small Sagenite needles in it. It has already sold, but if you are looking for sagenite, we may have more. Send us a message and we will locate some if so and get back to you.



U.S. shipping cost: $8.00
Sagenite Slab Item# 4436 Price: $8.00
Sold - - Contact us for additional items.