Psilomelane Slab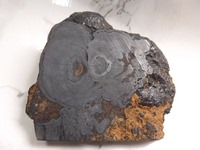 This is an example of Psilomelane. We have no sliced pieces of this material right now. The most awesome of this type of stone comes from Mexico. This particular piece is probably not from there, most likely collected from an area near Blythe, California.
U.S. shipping cost: $8.75
Psilomelane Slab Item# 4179 Price: $old
Sold - - Contact us for additional items.