Mineralogical Record
Mineralogical Record Magazine Back Issues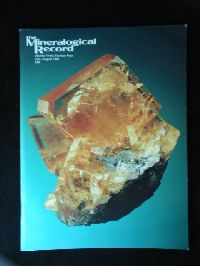 Over the years we acquired numerous back issues of the Mineralogical Record Magazine. The picture in the listing is only an example to show this particular publication, and as issues sell, we may or may not have this one in particular still available.
Click here to see the list of issues that we have.
Those available at the $7.50 per issue price are indicated by a purple color in the box. The yellow boxes are issues we have, but at a higher price. If you are looking for any of those issues, please email us and we can let you know the details.
All of these magazines are used and most of the issues we have are in overall very good condition, with some shelf ware, and minor scuffing. However, a very few may have wrinkling from moisture exposure, a few may have writing on them, or some bent pages. If you have a concern about the condition, please e-mail us before you buy and we will confirm the condition of any particular issue for you first. First Class shipping is available upon request for most issues.
U.S. shipping cost: $8.00
Mineralogical Record Item# 1945 Price: $7.00